John Lennon's 1958 Rickenbacker 325 :
John Lennon's Guitar 1958 Rickenbacker 325
John Lennon's Guitar 1958 Rickenbacker 325
Model 325C64
The British Invasion of 1964 initiated a rise in popularity of the model 325. The Model 325C64 duplicates the Model 325 as produced in 1964—complete with semi-hollow Maple body, re-shaped body and headstock, three vintage-style pickups, and Accent Vibrato. Offered in Jetglo finish.
Specifications
Body Type
Semi-Hollow
No. Frets
21
Scale Length
53.34 cm (21'')
Neck Width at Nut
41.4 mm (1.63'')
Neck Width at 12th Fret
49.2 mm (1 15/16'')
Crown Radius
18.42 cm (7.25'')
Body Wood
Maple
Neck Wood
Maple
Fingerboard Wood
Rosewood
Weight
3.2 kg (7.0 lbs.)
Overall Length
87.6 cm (34 1/2'')
Overall Width
32.4 cm (12 3/4'')
Overall Depth
38.1 mm (1 1/2'')
Neck Binding
No
Fret Marker Style
Dot
Tailpiece
Accent Vibrato
Bridge
Roller Bridge
Neck Type
Set-in
No. of Pickups
3
Type of Pickups
Vintage Single Coil Toaster Top™
Output Type
Mono
Machine Heads
Deluxe Vintage repro
Lennon's 1958 Rickenbacker 325:
An Evolution that Produced a Revolution
Much has been said and speculated about the 1958 Rickenbacker 325 used by John Lennon during the initial rise to fame of the Beatles. Perhaps what makes the famous 'Hamburg' 325 so interesting is the amount of speculation regarding such issues as it's original configuration, it's modification, the refinish, alleged theft, and current whereabouts.
The first thing that most people notice is that the guitar has no sound hole or elevated pickguard unlike almost every vintage or modern hollow-bodied Ric you'll ever see. If you examine examples of Rickenbacker's very first capris from 1958 you'll notice that they have only a single lucite control plate. It was towards the end of '58 that elevated pickguards were introduced. The run of 325's were produced very early in '58. The lack of soundhole on Lennon's 325 is harder to explain, but the feeling is that soundholes were not on the first few 325's but were quickly introduced as a visual indicator that the 325's were hollow. Without actually picking one up and feeling the exceptionally light weight, due to the alder body and extensive internal routing, they give every appearance of being a solidbody, and hence lower quality instrument.
Next, if you compare Lennon's 325 to almost every other known example of '58 325 you'll notice that it is unusual in having 4 controls. Most original 325's have only 2 rotary controls and 1 pickup selector. The reason for this can be found in the 'Rickenbacker' book by Richard R. Smith. On page 162 and 163 it is noted that "the first 325 guitars had a single pickup selector switch, a volume control, and a tone control. However, later in 1958, the factory refitted the 325's still in Rickenbacker's inventory with two tone controls and two volume controls." Due to the low position of the existing two controls it can be assumed that the two additional potentiometers were added above the existing two using the same 'single' lucite plate. This would also explain the 'skewed' placement of the controls on Lennon's. The new Rickenbacker standard Rogan (stove) type knobs were likely installed in the process. Here we have another answer, John's 325 was one of the retrofitted two control 1958 325's.
Mr. F. C. Hall, of Rickenbacker, recalled four 325's going to Hamburg. One was sold to West German dealer Walter Hofner at a Chicago trade show in 1959, and in October 1958, Rickenbacker shipped three maple finish 325's to Framus Werke in West Germany. John's guitar was one of these three. Shipping documents still in existance, confirm it.
Aside from the famous ownership it is, in itself, an extremely rare guitar. It was one of only eight natural finish 325's made in 1958. It also is a solid top (no 'f' soundhole) which was not standard for the new 325 Capris. The other examples of '58 325's that are known to exist today all have a 2 O'clock 'f' hole, except for one natural finish model which appears to have been made alongside Lennon's. John's (and the other natural finish model) has an elongated jack plate of the type normally found on Combo type instruments. The reason being that the small jackplates we see in use on Rickenbacker's were introduced in 1958. For the first few guitars made, they appear to have been unavailable and so production 'made do' by using the existing longer plates but without the strap screw normally found on combos. Less than 10 instruments have this oddity. By about 'V90' the new square plates are in use. The serial number of Lennon's 325 - 'V81' is an interesting recent addition to our knowledge. It makes Lennon's the 2nd production Capri made. 'V80' being the start of production for '58.
The fact that Lennon's was still sitting in inventory late in '58 while many of the other 2 control models had apparently been sold makes one wonder whether Rickenbacker was unsure of what to do with these unusual early versions (prototypes?) with no soundhole. The 2nd unit produced and yet still in stock months later. Facilitating it's use in at least one trade show that year. Suddenly an order for 4 325's just like the one seen at the show....off they go to Germany...problem solved. Guitar history takes a turn. All of these features make it an extremely unusual instrument indeed, some say the most valuable guitar on the planet.....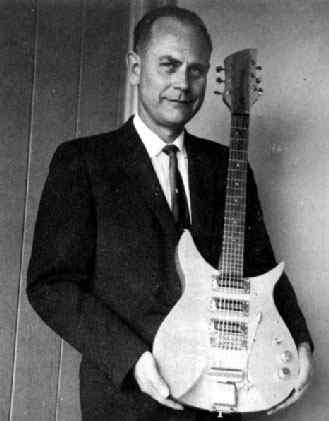 F. C. Hall proudly displays one of the new
twins. The first two 325's manufactured in
1958 were 'V80', a Brownglo Solidtop (seen
in other photos from this same session) and
this one, John Lennon's natural finish 'V81'.
Second production unit.

The late George Harrison recalled going to a music store in Hamburg with Lennon to buy the guitar. Harrison (as well as Rickenbacker) felt that Lennon bought the 325 from the Steinway music store in Hamburg. Chris Huston of 'The Undertakers' was told by John that he purchased the guitar from the Steinway Musikhaus. However, other sources maintain that it was actually purchased (actually Hire-Purchased) at Musikhaus Rotthoff. Very lastest information indicates that the later is likely the case. In any case, the Rickenbacker that Lennon purchased back in 1960 was a natural/honey finish 4/5 scale solid top guitar, alder body and neck, 2" thick with 1/8" ply back, single gold lucite control plate, four rotary controls with Rogan knobs, three 'short pole' toaster style pickups, Kauffman vibrola, standard 3 position pickup selector switch, extended jackplate, open backed Grover Statite tuners, and Rickenbacker open top roller bridge.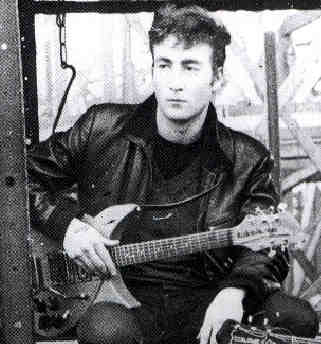 The newly acquired 325. It is seen
here in original form with Kauffman
vibrato, Rickenbacker bridge, 3 single
-coil toaster pickups, and TV knobs.
Perhaps the first thing John did was get rid of the unattractive Rogan stove knobs. It appears that he was having trouble keeping them in place, as period photos clearly show the guitar with one knob missing on a number of occasions. Not always the same postion either. The first replacemants appear to have been four Hofner teacup style knobs. Further early Hamburg photos testify to this.
The Kauffman vibrola was not an ideal tremelo system and was well known for not holding pitch with even moderate use. It was also an ungainly looking device. It's no surprise that John decided to get rid of it when he returned to Liverpool. Guitarist Chris Huston of fellow Liverpudlian band 'The Undertakers' had a factory-fitted Bigsby vibrato unit on the Gibson guitar he used in 1960, which Huston clearly remembers today as "the first Bigsby in Liverpool." He recalls: "John and I were pretty good friends, and not long after he came back with the Rickenbacker we went into Hessy's music store in Liverpool, and he bought a Bigsby unit from salesman Jim Gretty. John had his guitar with him, and we put it on the counter, unscrewed the old vibrato, which obviously wasn't as good, and screwed on the Bigsby. When John and I started to work on his guitar, right there on the counter, Jim said, in his thick Liverpool accent, "So, yer gonna put it on 'ere, are yer?". The bridge came with the Bigsby unit. The whole operation went without a hitch.'
Several sets of knobs are known to have been used on Lennon's 325. At the same time that the Bigsby accessories were installed another set of knobs was fitted. They were silver dome-topped, cream coloured radio/tv knobs, possibly Philips brand, and came from a TV/Hi-Fi store, on Whitechapel, just around the corner from Hessy's. After the refinish to black John settled on a set of Burns type plain aluminium knobs. These remain on the guitar to this day.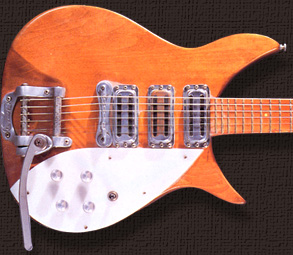 Bigsby tremelo and bridge
along with "Burns" knobs
It is reported by some that John went on to disconnect the middle pickup due to unwanted clicking noises being amplified when his pick would strike it. This is not confirmed.
The final change to the famous 325 was its colour. It had remained in it's original natural/honey finish even through the recording of the first album 'Please Please Me'. In 1963 the 325 was refinished in black. It is thought that it was to match George's black Gretsch Duo Jet which was his main guitar at the time. This specific topic is discussed in a detailed article in these pages entitled

"Baby's In Black".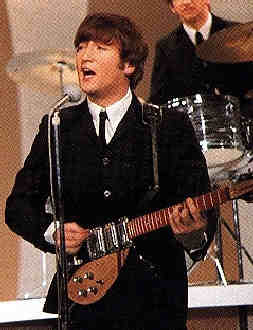 The first Ed Sullivan appearance
marked a new era of popularity
for the Beatles. It was also one
of the final appearances of the
1958 model 325.
Beatle fan magazines indicate that the Hamburg 325 was stolen in 1964. This is incorrect of course as the guitar was brought out of retirement by Lennon in the 1970's. Likely the confusion arises due to the actual theft of Lennon's Gibson J160E acoustic in 1963. This was never recovered, and was eventually replaced in 1964. The J160E is the only Beatle guitar definitely known to have been stolen. George's 1963 Country Gentleman fell off the back of their car on the way to a show in Scotland in December 1965 and was smashed beyond recognition by following lorries. Paul's 5000/1 gold plated Hofner Bass was sold for a bargain basement price in the Apple Corporation Auction.
In 1972 John commissioned New York's Ron DeMarino, guitar repairer to the stars, to restore his old 325 to working order. DeMarino reports that it was in a very poor state of repair, with mixed types of strings, some missing, and strung in the wrong place. The gold control plate was cracked and the wiring harness was tampered with (by John?) to such an extent that circuit information from Rickenbacker was required to return it to original specifications. All went well with the repair. In addition Lennon requested that the guitar be returned to it's original finish. It was mistakenly refinished in plain maple rather than the correct natural/honey finish. The Burns knobs were retained on the guitar. The pickguard was replaced, the original damaged one given to DeMarino by Lennon as a gift. Interestingly, the pickguard was subsequently replaced with an incorrect white acrylic type by an unknown party, perhaps thinking that they were getting a very famous souvenir. They were wrong.
Obviously, John had a special fondness for his original 325 as it was the one chosen to be restored, despite the fact that the '64 325 was in need of a further headstock repair Some sources say that John used the '58 325 on the 'Double Fantasy' and subsequent 'Milk and Honey' sessions. It is thought that John's last work on the track "Walking On Thin Ice" (early December 1980) was played on this guitar. Bitterly ironic is the knowledge that the last guitar used by John may have been his old favourite.
The '58 Rickenbacker 325 normally rests in New York City with Yoko at the Dakota. It is, however, currently on loan for the first time ever to The John Lennon Museum in Saitama Japan, included amongst the most extensive collection of authentic Lennon artifacts ever assembled. The rest is History...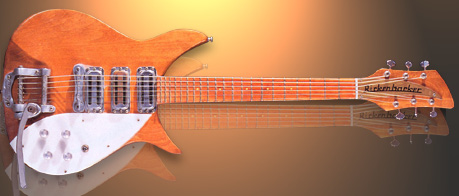 John Lennon's '58 Rickenbacker
325 as it appears today.
Article Submitted on May 3, 1999 - Revised January 27, 2002
© 1999-2002 Glen Lambert. All rights reserved.
Corrections and comments welcome. Glen Lambert
Special thanks to Chris Huston for his correspondance
& John F. Crowley for his information on Ron DeMarino.
Editing and Html Design by Peter McCormack
CELEBRITY NEWS
FREE MUSIC - PALCO MP3